Books by Rob LA LAU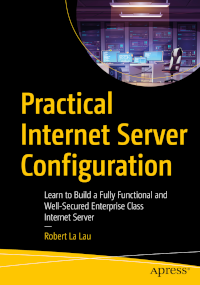 Learn the skills to complete the full installation, configuration and maintenance of an enterprise class internet server, no matter what Unix-like operating system you prefer. After a chapter explaining the most important Unix basics, you will be guided towards real system administration very rapidly, with everything explained along the way.
You will start with a vanilla server as delivered by a hosting provider and by the end of the book, you will have a fully functional and well-secured enterprise class internet server. You will also be equipped with the expertise needed to keep your server secured and up to date. All configuration examples are given for FreeBSD, Debian and CentOS, so you are free to choose your operating system.
No single blueprint exists for an internet server, and an important part of the work of a system administrator consists of analyzing, interpreting and implementing specific wishes, demands and restrictions from different departments and viewpoints within an organization. Give yourself the knowledge you need to succeed as a sysadmin using this book today.
This book is also available
in French and in Dutch.